My visionary fairy tales are lavishly-illustrated stories of transcendence and awakening. They express profound spiritual philosophies in a way that everyone can understand: through concise, colorful writing and vibrant pictures. Lucidia, Earthshine, and Stargazer came to me in spontaneous trance-like visions. It seemed as if the completed books existed in another dimension, and I was allowed to see them for short periods of time. The images were practically superimposed over my normal vision, and the words seemed to tumble right into my head. I spent five years organizing the writing and recreating the pictures in my unique style. The process was sort of like assembling jigsaw puzzles. But now, here they are, in physical reality, for all to read. May these tales illuminate your spiritual path. Please visit my Etsy shop to order your copy.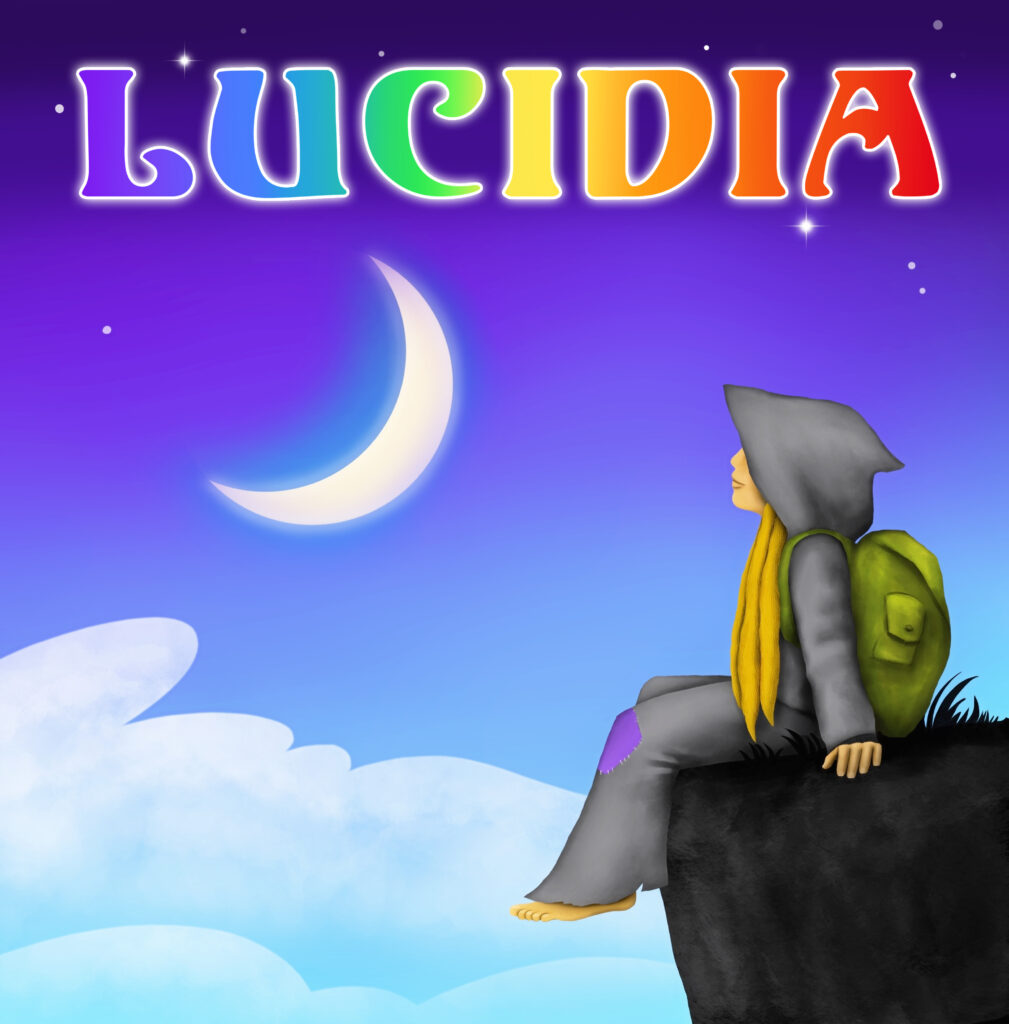 Lucidia is a tale for the next generation of dreamers. It is an invitation to awaken to the Truth: that you are a spirit soul, experiencing life as a wondrous dream. "Lucidia is the Kingdom of Light at the center of the Universe. It is the Source of Beauty, and Truth, and Love. Join Lucky, a free-spirited traveler, on a journey of self-discovery, as the magical people he meets help him find his way home…to Lucidia."
Earthshine is a message of hope for the future, a cosmic perspective of our destiny, and a new definition of what it means to be human. "Your thoughts are the Earth's thoughts. Your dreams are the Earth's dreams. Your Light is the Earth's Light…and it's time to shine."
Zaia is a wistful young artist who is desperate to discover the meaning of life. Her philosophical quest takes her to see some of the wisest people in history. These saints and sages and mystical beings help guide her way. But Zaia will have to use her imagination to finally find what she is searching for. 
My mission is to spread Light, Magic, and Inspiration through my writing and visual art.

I have visionary fairy tales, art prints, poetry and short story collections, coloring books, and holographic stickers available for purchase.

I am also available for various creative projects.

May you be inspired.